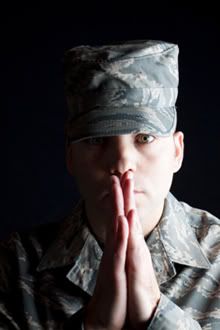 In Houston, TX, a lawsuit has accused Veterans Affairs officials of religious discrimination. The lawsuit was filed by the Veterans of Foreign Wars District 4, the American Legion Post 586 and the National Memorial Ladies. The lawsuit alleges the Houston National Cemetery for banning religious words such as "God" or "Jesus" and banning prayers at soldiers' funerals. http://www.nytimes.com/2011/08/31/us/31funerals.html?pagewanted=all
Many laws and government agencies seek to protect against discrimination. Such laws and agencies include: The Fair Labor Standards Act (FLSA), the Family and Medical Leave Act (FMLA), the Americans with Disabilities Act (ADA), the Equal Pay Act (EPA), the Age Discrimination in Employment Act (ADEA), the Equal Employment Opportunity Commission (EEOC) and Title VII of the Civil Rights Act. Specifically, they are intended to protect people from being treated differently by employers on the basis of their age, race, gender, religion, disability, national origin, sexual orientation and other factors. These important laws do not always stop discrimination from occurring, but offer aggrieved members of protected classes of people a method to obtain justice. Under the EEOC, for example, it is unlawful to discriminate against any employee or applicant for employment because of his/her race or color in regard to hiring, termination, promotion, compensation, job training, or any other term, condition, or privilege of employment. Please visit the EEOC's website for more information: www.eeoc.gov/policy/vii.html.
The attorneys at Leeds Morelli & Brown, P.C., dedicate a large amount of their practice to discrimination claims. For any questions, contact an attorney at the Leeds Brown Law, P.C. law firm for a free consultation at 1-800-585-4658. Leeds Brown Law, P.C.'s website is located at www.lmblaw.com.